Posted Monday, April 8th 2013 @ 11am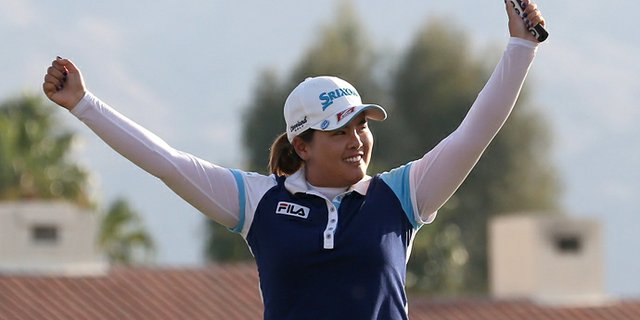 RANCHO MIRAGE, Calif. - Inbee Park carried an empty water bottle into Poppie's Pond to fill for her father. She plans to dump it on his head when they both get to Hawaii in two weeks. Gun Gyu Park bought a plane ticket and was on his way to the airport when she kindly asked him to stay home.
"I really stopped him because if he came, I would want to win so bad," Park said. "That might be on my mind playing today."
Gun Gyu was understandably upset, but Park said she was relieved her father listened. That leap into Poppie's Pond marked the 25th anniversary of one of the LPGA's most cherished traditions. It was also her parents' 25th wedding anniversary.
Can't think of a nicer gift.
The first time Inbee won a major - the 2008 U.S. Women's Open - she was 19. Four years and 72 tournaments elapsed until she won again last July at the Evian Masters in France. Now, she's one of the most consistent players in the world. And her putting? Phenomenal.
"I've seen Inbee do this before," said top-ranked Stacy Lewis. "I played with her at Evian last year when she had I think 22 or 23 putts in the final round. When she rolls it, you can't beat her. She's the best putter on tour."
Said Karrie Webb, who tied for fifth: "I don't know what her secret is, but I'd like to have some of it."
Park birdied the first two holes to make the year's first major a yawner. When playing competitor Lizette Salas made double on the first hole, Park opened up a six-stroke lead. She birdied the next for added emphasis. There were major winners and Hall of Famers on the board, but none made a move big enough to spook Park.
Park's good friend, So Yeon Ryu, put up the week's best round - 7-under 65 - to finish second. But even she finished a distant four strokes back. Park's command was actually larger than that number suggests; she three-putted the par-3 17th to drop her five-shot advantage to four in a rare sloppy moment.
Park shot 70-67-67-69 to finish 15-under 273. She had a total of five bogeys on the week. Park led the field in birdies with 20 along with Jessica Korda. She also tied for first in greens in regulation, hitting 79.2 percent of her greens.
With her fifth career victory under her belt and her second this season, Park is projected to move to No. 2 in the Rolex Rankings. She has four victories on the Japan LPGA.